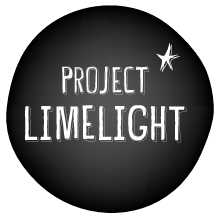 "Our hope is that every child in our program walks away with a widened circle of friends, an increased sense of self, and a heightened curiosity. Nothing would please us more than having participants come back to the program as mentors. To us, that is success."
– Donalda Weaver and Maureen Webb, Co-Founders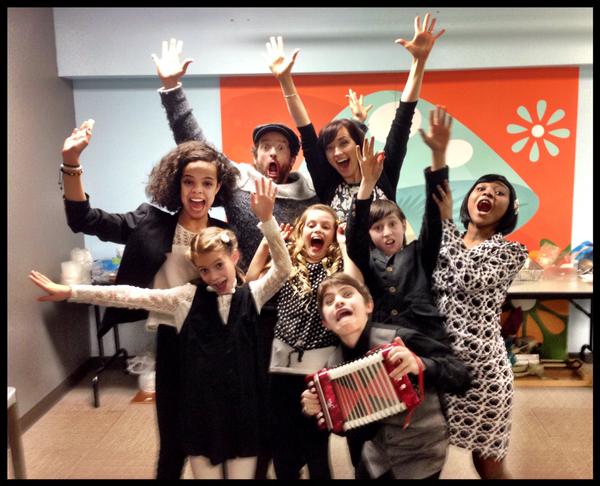 Louis is a regular supporter of Project Limelight, a children's art organization in Vancouver. Early in 2015 he talked about his participation in one of their recent film projects.

Listen to the sound clip here:
LF – Project Limelight is a local casting director who has a program for kids after school, I think they're between the ages of eight and fifteen, and she puts together an entire season of these kids—these kids come from rougher neighborhoods—and puts together this group, and it's pretty amazing. She gets professionals coming in and they teach and coach and they put together a full-on production and they perform it at a university here.

It's pretty great. They asked me to participate in this little short where the kids were the stars. And so I was just supporting a good cause and it's pretty amazing what they do.

FF – It just sounded fantastic and somebody posted a picture on Twitter, you were with a bunch of kids. And it was like "Jazz Hands".

LF – Yeah, and the guy who is in the picture with me, the guy with the moustache, that's Kristin Lehman's husband, Adam Reid. And it's pretty amazing. He was really funny and really great. I definitely love what they're doing.

That's a great thing to support. And since I'm leaving Vancouver, too, as well, I feel good that that was part of our thing, because it was something here that I was very proud of.

I gotta tell you, when I worked with them I was so impressed with the talent level and how smart they were and how much they loved it and it was just really exciting.

Co-founder Donalda Weaver has kindly taken the time to answer questions in this exclusive interview.
 
Listen to the sound clip here:
Interview transcript:

FF – Hi, and welcome to Ferreira Fest! I have the great privilege of talking to Donalda Weaver today, who is the executive director for Project Limelight. So, let's start out with some nuts and bolts—what is Project Limelight and how did it all come about?

DW – Thank you, Bea. Project Limelight is a free performing arts program for children living in Vancouver's Downtown Eastside and Strathcona. It's been around since 2011.  Project Limelight is a four month program for youth ages 8 through 15.

FF – For those of us who are not familiar with the Vancouver area, could you describe the kinds of neighborhoods and children that your organization serves?

DW – We serve an area that traditionally was one where children didn't necessarily have all the opportunities.  Our goal is to present opportunities for children to build self-confidence and foster self-esteem through the safe community of performing arts.

FF – And your organization, the program is free for children, right?

DW – Yes, it is free. It's free for everybody, we're all inclusive.
 
FF – According to your website, Project Limelight maintains a very busy training, rehearsal and performance schedule. Could you describe some of your recent and current projects?
DW – The general program runs for approximately four months. The first six weeks of the program consists of mentoring, training, and workshops. Workshops are lead by professionals from the film, television, and theater industries. The remainder of the program is used rehearsing a full-length production.  The shows are usually panto-style, performed by the kids for the general public, friends and families.  We try and do a couple of these a year, so it's very intense. The kids attend at least two times a week, and when it gets closer to the performance, sometimes they rehearse almost every day.
FF – And those are after-school programs, I assume.
DW – After school and weekends.
FF – Project Limelight supports both live performance and camera work, what benefits do you see in having both?

DW – We started out strictly in theater and doing live performances.  What ended up happening is that some of the kids expressed interest in acting for film and television, so we felt that we would give them that opportunity as well. They've had the experience of being bigger than life on the stage, and now it's time for them to learn how to act in front of a camera.

FF – Well, that's certainly useful with a considerably sized television and movie industry in Vancouver. That only makes sense.
DW – Absolutely.
FF – Now, you've mentioned that for the first six weeks in the programs, you use professionals from the entertainment industry. And, based on what I've seen on the website, and heard from others, you work with some rather well-known professionals. After all, this is how I found you.
How does that system work? How do you find these people? What attracts them to the programs?
And what exactly do they do?
DW – We are so fortunate to have the support of the industry professionals who want to "give back" and work with Project Limelight. What our mentors do is what they do best. The workshop leaders come in to share their specific talent; workshops are forever changing, and depend on who is available.  If, for instance, we have a comedian that's available, we'll have them come and do a comedy workshop. We'll have somebody do improv or have a choreographer teach some form of dance. We try to offer something a little different, that normally the participants, wouldn't have had a chance to be exposed to.  And, it's all about the opportunity to try new experiences.

We hope that one day that these kids will be able to say, "Hey, I'd really like to do that" because of being exposed to the opportunity which gave them an idea of what "that" is all about.

We are able to draw from the professional talent that is in Vancouver because we have the luxury that my sister and co-founder of Project Limelight, Maureen Webb, is a casting director who has a respected connection with the industry.   We have a lot of friends and know many people in the industry who support Project Limelight.

FF – Yes. And it's all about connections, and there is never a spot that's too soon for the kids to learn that they need to start networking. And it's all about who they know and what kind of connections they can make. And what kind of connections they also cultivate as they grow older. So that's certainly a great opportunity for them to learn that early on.

DW – Absolutely.  The funny thing is, that a lot of the kids won't know for years, probably, just who they were learning from.
FF – Right.
DW – We don't really make a big deal about somebody being a little bit extra well-known or anything like that. We just treat everybody as professionals. The kids are taught to treat everybody with respect.  It is really wonderful.
The whole purpose of this program is so that the participants gain confidence, and the amazing people who mentor them, are really great at helping to build that confidence and self-esteem in the kids.
FF – Now, the reason why we're specifically talking is because Louis Ferreira, who our website is about, was involved in some of your projects, so, the one that I know of is of course The Review which is the short film that you just finished, that will start to be exposed to the public this weekend. How exciting is that! So, well, by the time this comes around, it will be later, but, anyway, so it's out there and people have seen it, so can you tell us a little bit about this particular project? And maybe other projects that Louis was involved in and how did they all turn out?
DW – Well, how the connection with Louis came about was through Maureen.  She is the casting director on Motive. Louis' relationship with Project Limelight started off with an event that was benefiting Project Limelight, called Monday Night Live.

Experienced industry professionals would come and form a panel for up and coming actors, writers, and directors, to hear a little bit of their story.  Louis was part of that and when he learned more about Project Limelight, he just embraced it. 
Louis is really into mentoring and inspiring young people so he wanted to do something with us.
When the opportunity came for this short film project, The Review, and we were trying to fill the role, Louis' name, of course, was high on our list. We were just so fortunate that he was available.  He even came back from his Christmas break early in order to be able to accommodate us.
FF – The whole mentorship philosophy is mainly the reason why I'm actually talking to you. Because one of our topics, along with charitable works, is mentorship. And how do we get young people involved, and how do we help them find their way and believe in themselves? And how do we mentor them? So we've featured several of Louis' mentees; actually last month, in March, we featured Eric Banerd, who is a young Vancouver actor that Louis has just mentored through another program.
FF – So, does Louis fit pretty well into that mentorship philosophy? You've mentioned that you knew he was interested?
DW – Oh yes!  We try to ingrain mentorship right from the beginning of our program, even with our kids. All our volunteers help us with that including our Limelight Leaders who mentor the kids on a daily basis. Our guest workshop leaders come in and mentor – we actually prefer to use the term mentoring rather than teaching. Mentoring is a very important part of Project Limelight.  Once the older participants have been part of our program for a while we ask them, if the situation is right, to mentor somebody else – to give a helping hand to somebody else that needs it in the program, be it a younger participant or somebody else who hasn't as much experience. And we go from there.  This is something that is taught all the way through.

Mentoring is very important.
FF – Well, again, it's never too early to teach the kids how to pay it forward.

DW – I agree.
FF – Once you've learned something, it's time for you to teach somebody else. Even if you're just a step ahead, you are a step ahead. And there will be somebody who can benefit from your experience and that's just a wonderful thing, for even young children to learn.

DW – So true.

So – You can't start soon enough with that. Now, on your website there is a way to donate, there's a nice little donate button. If people make a donation to Project Limelight, what programs or resources will they support?

DW – They will support our ongoing programs that we run at least twice a year. One of our priorities is that we provide our kids with a meal or healthy snack every time they come to a workshop or rehearsal. We don't ask if anybody's hungry – we just assume kids are hungry. Food security is a very important part of our project.

We fund our whole program through donations.  We promise great costumes, professional venues, and good instruction and mentorship.  All with the purpose to help create pride and self-esteem in young people. By having a fabulous costume for somebody who never dreamt they would be on stage, let alone in some great costume, it goes a long way to help make that child proud of himself. The ripple effect is that the family is also proud and then it goes on from there into the community.

FF – Thank you so much for telling us a little bit about Project Limelight. And we hope to support you from here on out, in the future. And thank you so much, again, for talking to me today, I really appreciate it.

DW – Oh, it's been my pleasure. I really appreciate this and, we're very proud of our program. We welcome anybody to check out our website and send us comments. Thank you very much.
* All photos © by Project Limelight 2015
Thanks to Casey for the transcript and to Ms Weaver for the edits!
And here is what the kids from Project Limelight have to say:
Watch the short film The Review where Louis co-stars!