Published December 2020.
Please report any broken or expired links to .
All content copyright © louisferreira.org.
Big changes are coming to LOUISFERREIRA.ORG! As you may be aware, Adobe is discontinuing support of its Flash Player at the end of the year. Since our current website builder is entirely based on that system, this website will be deactivated on December 31, 2020.
Never fear, we are moving to a new site on January 1, 2021! While the new site will look quite a bit different, nothing will change for you: our URL will still be the same – https://www.louisferreira.org, and you will get the Ferreira Fest newsletter every month on the 20th. The Reading Series is already up on the new site, as well as the home page and many others, such as the most recent newsletters.
Migrating the content of 219 individual pages with thousands of photos, links and sound clips is extremely time-consuming, so it will be a few months before all the old pages will be back up and running. Please be patient. In the meantime, if there is an interview guest page, a photo collection or an issue of Ferreira Fest that you're particularly fond of, please make a copy of those pages now, as it may be quite a while before you can access them again.
Thank you for your patience and understanding. If you have any questions or need a particular item during the transition, please don't hesitate to drop us an email – everything is listed on the CONTACT page.
And so – welcome to our very last Ferreira Fest on this version of the website! Be sure to check the very end of the page for a holiday song video performed by Louis himself!

THE 2021 BIRTHDAY PROJECT
Louis' birthday is coming up soon, on February 20th. As always, we are doing a special project for everybody to participate and to wish him a Happy Birthday!
Please check out the instructions on the Birthday Project Page – everyone is welcome to join in!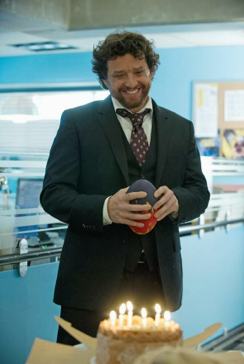 Ability Online
As the first social media technology platform for young people with disabilities to connect to each other and the world around them, Ability Online offers its members the following:
Supportive online community for kids, teens & young adults with all kinds of disabilities or health challenges.
Dedicated sections for Parents/Caregivers & Professionals !
A safe, monitored online experience also rich in resources and skill development modules.
Connections to peers, role models & mentors for info and support.
Equipment grants for qualifying members (parents) of the online community. Grant recipients are children with disabilities or chronic illnesses under 18 years of age (see Ability Gives)
FREE membership
Ability Gives, the equipment fundraising partner of Ability Online, is still supporting Kaden. Read more about him and participate in the fundraiser here!
Of course you can always donate to the general operating fund, and with lockdowns and social distancing kids with disabilities are deeply affected, so a safe, bully-free place to meet is more important than ever. Click on the logo below to help.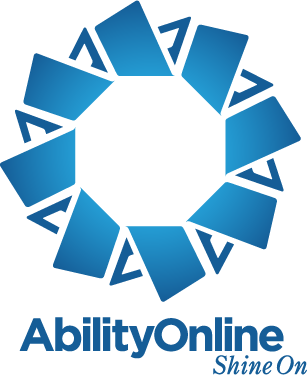 Project Limelight

The mission of Project Limelight is to create an environment that will allow youth to develop a strong sense of self and to unleash their imagination. The program provides a nurturing community that supports their development through participation in the performing arts. Project Limelight gives young people a sense of confidence, self-assurance and creative freedom that will be carried forward outside of the initiative and into their school and home life.
While the project is currently on hiatus due to the COVID-19 pandemic plans are underway for the time when it is once again safe to gather and learn together. Help disadvantaged inner-city kids in Vancouver experience a top-quality performing arts education and healthy meals by clicking on the logo below.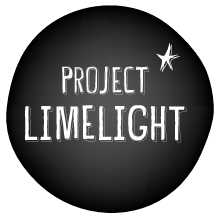 Haven Toronto
Haven Toronto is the only daytime shelter for elder homeless men in Toronto. Winters in Ontario are brutally cold, and for many clients Haven Toronto is a true lifesaver. Among many other services they serve nutritious meals, distribute clothing, provide basic medical care and a place to receive mail and gather with friends.
Haven Toronto is a tireless advocate for affordable housing, raising awareness about poverty and discrimination against the elderly. Your generous gift means so much during this particularly challenging time.
You may be familiar with the concept of an Advent Calendar – a countdown of the 25 days leading up to Christmas. Haven Toronto has prepared a Quarantine Calendar with the same principle. It provides 28 days worth of fascinating information, advice and activities to keep up your spirits during the current lockdowns. If you're in quarantine, isolation or simply trying to make it through the month this daily treat will brighten you day! Click here or on the image to get started!
If you want to have a tangibly positive impact on someone's life, consider shopping at Haven Toronto's Shop & Share store: anything you purchase there goes directly to an elder homeless man in need, and there is something for every budget! From a single meal to a full winter outfit – here you can make a real difference! Of course you can also give to the general operating fund of the organization by clicking on the logo below. Please note that you will be linked to our very own donations page which still bears the former name of the shelter – The Good Neighbours Club. Your donation will still arrive at Haven Toronto.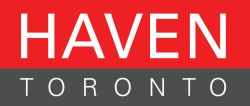 The Children's Aid Foundation of Canada

Join us, and bring joy to kids in foster care this holiday season!

The holidays should be a magical time, but sadly for children and youth involved in the Canadian child welfare system, it is often full of isolation, disappointment, and sadness.

This year, the COVID-19 global pandemic has compounded the already profound challenges faced by these vulnerable young people. This holiday season will be especially difficult with a sense of joy and merriment further out of reach.

Year round, The Children's Aid Foundation of Canada is committed to helping children at risk of abuse and neglect realize their potential, and break the cycle for future generations. The launch of our holiday campaign welcomes you to join us as we carry out our mission throughout the season of giving!

Please explore the many ways you and your family, friends and colleagues can get involved including:
Host a holiday fundraiser with your workplace, family and friends!
Hold a gift card drive
Make a personal donation!
To discuss additional giving opportunities please contact Hira Chaudhry, our Development Officer.

We look forward to teaming up to bring joy and holiday cheer to kids in care – this year more than ever.

Warm holiday wishes,
Children's Aid Foundation of Canada
Thanks to generous donors and 74 incredible agency partners, in 2019-2020, support and resources were delivered to 19,340 children and youth, and 4,295 families all across Canada! Read more about these impacts and find program highlights in the Annual Impact Report.

You can always read the latest news in the online newsletter The Buzz. As you make your decisions about year-end donations to charities, please consider giving to those children who are in foster care this holiday season. Click on the logo below to contribute.


URBAN ANGEL
Encore Plus is posting new episodes of the classic Canadian series Urban Angel on YouTube every weekend, and you can watch them right here! Please be sure to subscribe to the Encore Plus channel, and when you get a moment, thank them for sponsoring the upload of this great show!
Based on the memoirs of Canadian journalist Victor Malarek, Urban Angel chronicles the journey of a street-wise ex-con who gets a job writing a column for the fictional Montreal Tribune. During the course of his work, he fights society's dysfunctions and a spectrum of crime situations. This iconic series produced by Montreal's prolific Telescene Film Group starring Louis Ferreira (credited as Justin Louis) and featuring many important talents aired on the Canadian Broadcasting Corporation (CBC) and later, in the United States on CBS Late Night from 1990-93.
Urban Angel (S. 2, Ep. 1)
Battered Lives
Torres is distressed when a woman returns to her "remorseful" hubby – only to end up in the hospital. Haunted by memories of his own violent father, Torres winds up in jail when he angrily explodes at the sexist judge who lets the husband off for a second time.
Urban Angel (S. 2, Ep. 2)
Angele
Investigating the murder of a street hustler, Victor is shocked to discover that the boy was from a wealthy family.
Urban Angel (S. 2, Ep. 3)
Family Business
Victor becomes alarmed when he discovers that his best friend's family may be inadvertently involved in drug dealing.
Urban Angel (S. 2, Ep. 4)
Pearls of Wisdom
Victor is left holding the diaper when he gives shelter to a single mother, who subsequently leaves without her baby.

SCREENCAPS
This month we have 144 screen caps from the Bad Blood Season 2 episode 4 That Ship Has Sailed. Louis, who plays Mafia boss Domenic Cosoleto, has a nice long scene with our friend Franco Lo Presti, who plays his son Luca in the acclaimed TV series.
Logline:
Declan goes to send off his payment to the cartel, but unforeseen events change the course of his and Reggie's lives forever. Teresa and Christian work closer with Luca in their fentanyl business.
Click on the image below to go to the entire collection. Here is a direct link to the album as well: https://ferreirafestscreencaps.shutterfly.com/pictures/45071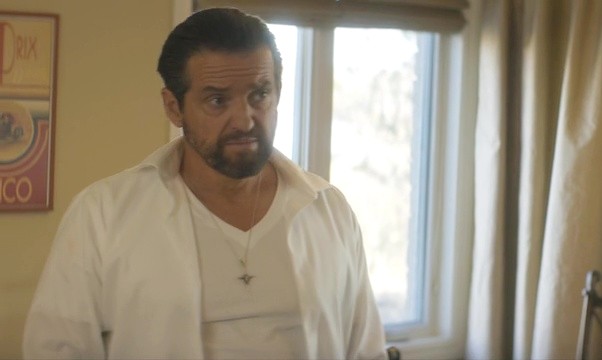 THE 4th READING SERIES: MR. MUGS – ROCKETS AWAY!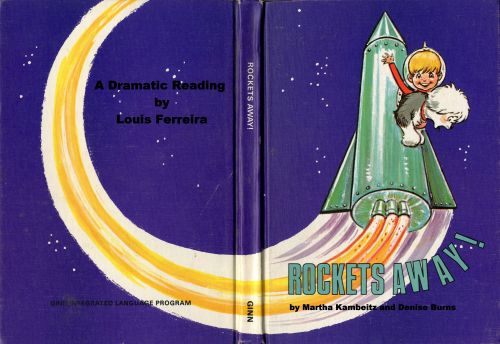 The fourth monthly reading series continues in Mr. Mugs – Rockets Away! by Martha Kambeitz and Denise Burns.
Unlike previous readers, this volume was published as a hardcover book within the Level 3 series of the Mr. Mugs readers. It was originally released in 1968. The Mr. Mugs books have been out of print for many years but occasionally you can find them on eBay, Amazon Marketplace or various other antique book dealers. Louis credits the Mr. Mugs books series with helping him to learn English at a very young age.
This month's contribution is Chapter 5 of the book Mr. Mugs – Rockets Away!
You can read and listen to this section and all the previous book readings under the Reading Series Tab.

FRIENDS NEWS
Franco Lo Presti
Franco's holiday rom-com Christmas Catch (2018) is available on Netflix! Franco plays the "catch" Carson. The movie also stars Lauren Holly, who worked with Louis for four years on Motive.
Logline:
A small-town policewoman falls for a suspected diamond thief at Christmas time.


Alaina Huffman
Alaina is co-hosting a new series of podcasts with Malik Yoba!
"Welcome to Craft Service! The podcast for lovers of television and films and the people that make them. On this inaugural episode your hosts Malik Yoba and Alaina Huffman share insights into their Hollywood careers and the motivation behind creating this show. Listen, learn and be inspired by some of your favorite actors, writers, directors, producers etc. as they share insights into their creative process, personal passions, origin stories, useful tid-bits and anecdotes about the business of show and life in general. Enjoy the journey as Alaina, Malik and their guest stars explore the universal themes and real life inspirations that make us fall in love with film and television." Check it out here and listen – the first 4 episodes are now available!
Alaina's self-care course RENEW YOU is now available for pre-order! Alaina writes:
"I'm so happy to offer my new 13 week life coaching Program Renew You, available January 1. After completing my own coaching program a couple of years ago I decided to create a program using all of my favorite tools! Join me and step into your power! Pre-order the course here."
You can also preview the first chapter for free – just click on the image and give it a try!

The Affolter Brothers
"TRY TO FLY played in its third Oscar-qualifying film festival to date! A pleasure and honor to be a part of STLIFF this year. So excited to announce our CBC release date just around the corner… stay tuned, friends!"

Mika McKinnon
As a geophysicist and science communicator, Mika constantly finds new ways to educate us about rocks:
"If your pumpkin pie or cheesecake cracks, you didn't screw up. You just made a thermodynamics demo on hexagonal cracking like we see in columnar basalts, salt flats and mud cracks!
This is my favorite local columnar basalt set near Whistler, BC. Cracks curve to where lava met ice."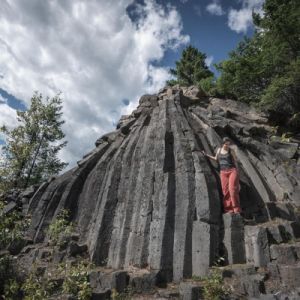 Troy Mundle

Troy is working on Season 1 of Bucketheads. They have a new Star Wars anthology series coming out to fill in the gaps between Bucketheads episodes, Tales From The 501st!
The first episode will premiere on their YouTube channel on Saturday December 12th.
You can watch it right here!

Alex Appel

Alex' new movie Modern Persuasion aired at ByTowne Cinemas in Ottawa December 11 – 14.

Modern Persuasion is a modern re-telling of Jane Austen's "Persuasion". Wren Cosgrove (Alicia Witt) is a happy, single, self-confessed workaholic who, after rising to the top of the corporate ladder, finds herself coming home every night to her cat.
When her firm is hired by Owen Jasper, a former boyfriend who wanted Wren to abandon her career, long-lost feelings are stirred. If she can persuade Owen that he could be happy with a career woman, she may have a second chance at true love.
But the course of rue love never runs smooth, even the second time around; before Wren can make up her mind about Owen, she learns that her own assistant is dating him.
Alicia Witt and co-stars in the Jane Austen adaptation Modern Persuasion. Complications ensue, but there's nothing Wren is faced with that Jane Austen hadn't anticipated, ensuring that love and happiness will emerge triumphant.
Modern Persuasion is available in select theatres on Friday December 11 and it's available on Digital and On-Demand December 18!
Read a fabulous review of the movie right here!

Justin Nannassy
Justin has been incredibly busy lately! Here is a collection of art and poetry he posted over the past month. As usual, click on the thumbnails to see full-size versions, and if you not an adult go here instead.
Justin also premiered new music, and you can watch a video of Fight Club right here.

Ingrid Rogers
Liberate
"In the summer of 2019 I wrote a poem; an anthem for women, especially women of color to be seen as whole and equal.
Little did I know that 2020 would explode with cries for justice and equality and thankfully bring a lot of long awaited recognition for women of color in the entertainment industry. I encourage you all in this time where we can feel stifled or repressed by our circumstances to make something and share it. You'll feel uplifted and you never know who you might impact or inspire."
The film is an official selection at the Kwanzaa Film Festival 2020, and the 2021 9th International Video Poetry Festival.
Ingrid's latest movie Team Marilyn won the Telling Our Stories competition. There were 1100 submissions, 6 wonderful finalists and this film got the top recognition, 10,000 dollars and will air on STARZ. Ingrid writes:
"I'm so thankful I got to act in this gem and to meet and work with this terrific cast and crew. We do it for the love but the acknowledgment sure feels good. Thank you."

Rob Munic
Rob dropped a hint about his newest project:
"I'm part of the POWER BOOK universe. FORCE is the show I'm doing. Drops 2021."

Peter Kelamis

Peter writes on November 30:
"I start work on a new film tomorrow. It's always exciting to me. Like the first day of school.
Lucky for me I will have a few familiar faces around to make me feel welcome. G'nite everyone… be well… stay safe."

And on December 7 he reported:
"A GREAT day on Set today. Great actors, great crew, great Director! I will share details when I am able. I was in EVERY scene filmed and loved every second of it! Counting the blessings today."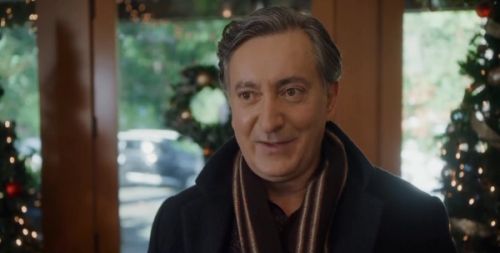 And here's a screen shot of Peter in the holiday rom-com Time for Us to Come Home for Christmas.

Bradley Stryker
Bradley is emerging from the COVID film production slump by guest starring on Law & Order: Special Victims Unit:

HEALING BODY ART
Every month Vancouver artist Nicole Pilich shares one of her henna creations with Ferreira Fest. And if you find yourself in Vancouver visit her studio and treat yourself to some Healing Body Art made just for you.
This month Nicole shares a painting that her super-talented daughter Galadriel (Gala) made. We have featured this young artist's work before, so this is a special treat for us!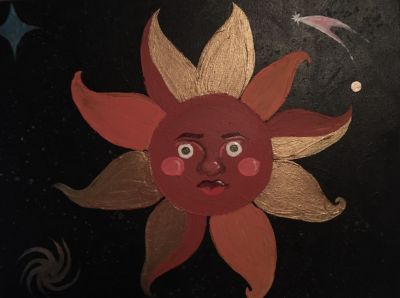 THE 2020 HOLIDAY VIDEO
This year Louis and Jackie want to share a holiday song video, where Louis performs the famous Elvis tune Blue Christmas for Jackie's grandma Nanna, who passed away last year. Louis enjoyed a very special relationship with her, as you can clearly see in the photos below.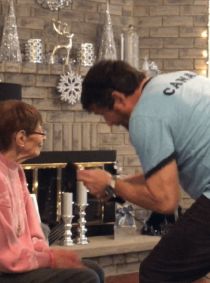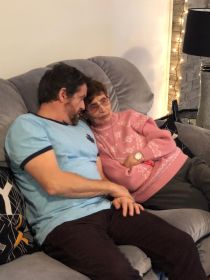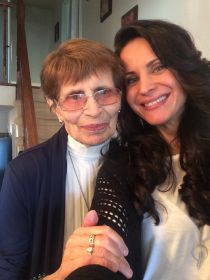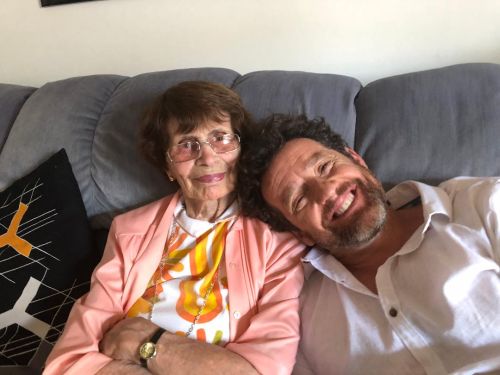 Louis writes:
"Nanna Julia… my sweet Nanna who loved to dance and sing with me, and also teach me dirty words in Maltese. Never having had a grandmother she made me feel like I had one in her, and I'm so grateful for our times together. She loved Elvis (and all the oldies) and would always request Blue Christmas during the holidays. This one will always be for my beautiful Nanna, but I dedicate this to all my friends who are blessed enough to have Nannas in their life. Bless them all!"
And here is Louis in his special Christmas suit, performing Blue Christmas for Nanna. Enjoy!

And that, dear Friends, is about it for this month! And just a reminder: this is the very last Ferreira Fest issue on this version of the website. We will debut a brand-new site in January, and it will be a few months before all 219 pages have been transferred…
Thanks for visiting often! Be sure to follow us on Twitter for all the Louis news you can handle and TV reminders!
If you have comments, questions or suggestions, there are many ways to make your voice heard:

1. Visit the Forum and start a discussion or participate in an existing one. Signing up is easy and hassle-free but not required for visits, and nobody there will send you spam or unwanted emails.

2. Leave a note in the Guestbook. Guestbook notes will get a response via email if available.

3. Contact or any other staff member. Everyone is listed on the Contact Page. If you have any questions that you need answered, email is the way to go!

We are always looking for volunteers who want to contribute, and there are perks associated with being a correspondent or staff member!

Please remember: all content of Ferreira Fest and indeed this entire website is copyright protected. That's what the note on the bottom of each page says. It means that you should never re-post anything you find here elsewhere. If you absolutely must do so please contact first so we can work things out. We all work for free here, and we all work very hard, and it's just not fair if you steal stuff and claim it as your own. Your mom/ dad/ parental unit/ teacher already told you as much. Please play by the rules.

We hope to see you all next month on our new website!