Elmer The Safety Elephant
One of Louis' first jobs was to educate young children about traffic safety in the guise of Elmer the Safety Elephant. Here is a little background from the Official Elmer Page:
The role of Elmer the Safety Elephant is to teach young children how to stay safe. From the day he first appeared over 50 years ago, he was an instant hit with kids. The character and his message are as relevant (and as much needed) today as ever.
Elmer the Safety Elephant was born in 1947. That year, his impact was dramatic. Traffic collisions among Toronto children dropped an astonishing 44 per cent – even though vehicle registrations increased by 10 per cent!
Costumes were created so Elmer could appear in schools and at events.
Elmer's original safety rules were based on a study of collisions involving children 5 to 9 years of age. The study showed that the vast majority of mishaps could be traced to six hazards. This resulted in the slogan "Elmer and I never forget" and six traffic safety rules. Elmer now has seven traffic safety rules, and addresses many aspects of child injury prevention, including playground, fire, school bus, railway, home and Internet safety.

A CBC Television clip from 1955 takes a look at how Elmer the Safety Elephant came to be and how his message is bringing safety to the streets.
Louis shares a few memories of his time as Elmer with us. Listen to the sound clip here:
FF – Yeah, Elmer the Safety Elephant. Remember when you had the big costume? It must have been right out of high school or something.
LF – Yeah. Yeah, no, that's when I'd just moved in with Greg Allen. So I'd left my neighborhood and my mom and our Ontario Housing and moved in with my grade 12 theater teacher. It was one of my first jobs ever. And I was super excited because it took me out of the factories and into the world of acting. And I was very excited.
We had our own truck with Elmer the Safety Elephant's face on the side of it. I went with a partner and we would do two schools a day. She would drive and then we'd get there and I would put on my Elmer outfit, which made me seven feet tall, with the head. And inside the actual costume was a hula hoop. So if I took my hands and held the hula hoop I could shake it from side to side and the kids really liked that.
The other thing was, and so we'd go and I would do a kind of a Barney voice, really, is what it sounded like.
It was like: "Hey kids, make sure you look both ways before you cross the street!" And then I would shake the hula hoop and they would laugh. And I'd teach them all about road safety and stuff.
The weird thing was, though, we were at one school, I think at the time I was either twenty or twenty-one and smoked. And so, I got fired when one of the principals caught Elmer the Safety Elephant smoking in his Elmer the Safety elephant truck and thought perhaps this wasn't a good image for the children – or for anyone – to see! (laughs).
So after the Barney voice I'd go into the truck and light up a cigarette like I was some badass of acting. Like some rebel. Full-on Jimmy Dean posing in the window with a cigarette.
So that was the end of Elmer for me.
But it was, I had a good time until then. And it paid good money and I loved it. I don't think I should've been fired. I should have just, I should've at least had a warning.
It had to be funny. It must have been funny to see me, like, "Is Elmer the Safety… is there a guy smoking? Elmer the Safety Elephant!" It's funny.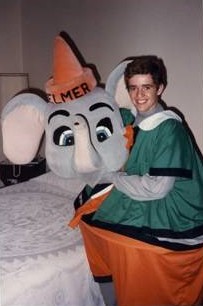 Here's photo of a very young Louis getting ready for an outing as Elmer the Safety Elephant.
Thanks to Louis' former high school drama teacher Greg Allen for the great photo!
Read an exclusive interview with Mr. Allen in Ferreira Fest 26.

In 1964 an official "Safety Song" was published which the children could sing to help them remember Elmer's Safety rules. We were able to obtain a rare copy of the sheet music and asked David Dingess, a young composer and musician/ singer to record it for us. David talks about his process of developing the style of the song in Ferreira Fest 60.
"Elmer's Safety Song" was composed by Dolores Claman with lyrics by Richard Morris.
Here is David's beautiful re-creation of this long-lost song.
Here is the sheet music:

And now we have some special treats from Louis for all of us, and especially those who have longed for Louis to read another children's book.
Here Louis reads a small booklet that was handed out to children all over Toronto.
The program also provided book covers for children, such as this one: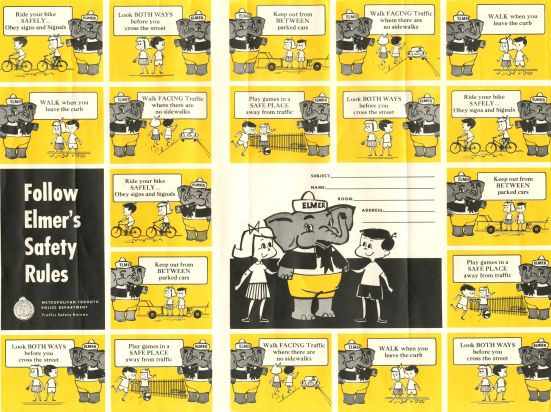 Here Louis reads the instructions on the book cover.
As with any campaign geared towards children, there is a plethora of Elmer paraphernalia out there, such as pins, badges and even figurines. You can occasionally find them on eBay.