The 2021 Birthday Project
Every year we are planning something special for Louis' birthday, which is on February 20th.

This year we will literally brighten his day and light up his life! We will send him a garland of lanterns of good wishes!
The lanterns are brightly colored ping pong balls which you will decorate in whatever way you want. Draw little pictures, write your well-wishes, get creative with patterns – the only limit you have is the size of the surface of the ball.
Here is an example of a lantern on a garland: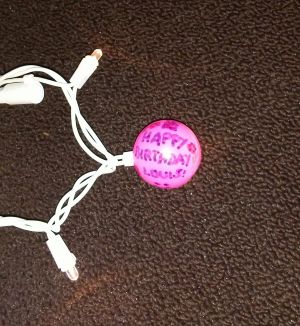 Here's how you can participate:

Option 1:
Use any ping pong ball you already have, or purchase one at a local store – it can be any color you like, and plain old white is fine! Decorate the ball using waterproof markers (such as Sharpies) or any other paint that will stick to it. You may also cover the ball with clear tape to protect your work, or use stickers or ribbons or whatever you like. Or you can punch in patterns with a push pin so your message or design shows up when it's lit!
Then mail the ball to us – drop us an email for the shipping address. Please be sure to pack the little treasure securely so it won't get crushed in transit. The package needs to arrive in Atlanta, Georgia/ United States no later than February 1, 2021.

Option 2: Using the template below print your artwork onto a sticky-back transparency. Any copy shop will be able to do that for you if you don't have a printer. Or use clear tape of any kind to make the shape, and put it on a surface where it can be removed easily. Then ship the transparency/ tapes – again, ask for the shipping address here and make sure it arrives by February 1, 2021. Here are instructions in pdf form that you can download and print:
The 2021 Birthday Project
Pattern Instructions:
Print this file. It is scaled for the "letter" paper size, which is 8.5×11 inches, or 21.5×28 centimeters.
Place a ruler on the scale above the pattern. If it lines up with the scale, you're good to go. If not, you may have to enlarge or reduce the size of your printout accordingly.
Decorate the "petals" of the shape in any way you wish.
Next, do one of the following:
Print the finished design onto a sticky-back transparency (any copy shop will be able to do that). Mail the transparency to Ferreira Fest (send an email for the mailing address).
Scan the finished design and email the image file to Ferreira Fest.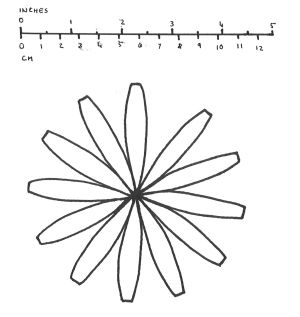 If you have the shipping address from last year – it's still good, and you can use it again.

Option 3: Use the template above to draw your artwork/ well wishes, scan it and email it to us. We will print it onto a sticky back transparency and apply it to a ping pong ball.

Option 4: Just email your wishes, and we'll write it on a ping pong ball for you! Questions? Send an email!
Please remember: the deadline for all wishes to arrive in the Atlanta, Georgia/ US area is February 1, 2021 so please check with your mail service to make sure everything arrives by that date.
Here is Louis with some of his birthday projects from the last few years…